Following a recent tender for road stabilisation, Isaac Regional Council rehabilitated 43 kilometres of Lou Lou Park Road with PolyCom Stabilising Aid late last year.
Gravel re-sheeting and maintenance grading have been used to maintain the rural road in the past, however Manager Infrastructure (West), Pat Moore, said the remote location and poor geotechnical conditions made these methods ineffective.
"Research, investigation and trials over the past 18 months led to the discovery of PolyCom Stabilising Aid," says Mr Moore, "an Australian-made soil stabiliser used to strengthen almost any material commonly found in road construction and earthworks projects."
"The product is simple and has proven very effective in relation to improvements in pavement longevity on black soil, sand based formations and gravel," says Mr Moore.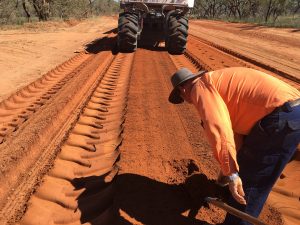 The works on Lou Lou Park Road included reinstating formation shape, drainage, gravel capping and pavement stabilisation. The project took three months to complete at a cost of $1.5 million, and was jointly funded through the Queensland Government
Transport Infrastructure Development Scheme (TIDS) and Isaac Regional Council.
In a media release, Mayor Anne Baker said Isaac Regional Council crew went above and beyond to solve the pavement issues the road has had historically.
"Council crews worked extremely hard to deliver the project on time and under budget. The team's positive work ethic and determination produced excellent results in what was before considered unachievable. We are proud to deliver this project as promised in the 2016-17 'Connecting Our Communities' Budget."
"The rehabilitation will ensure a safer commute for the cattle road trains and agricultural traffic that use it each year," said Mayor Baker.
Cr Dale Appleton said he was impressed with the finished product. "We've already had positive feedback about the high standard from farming families who use Lou Lou Park Road," Cr Appleton said.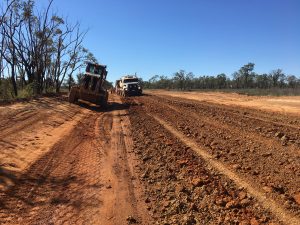 Used in road construction and maintenance on sealed and unsealed roads for over 14 years, PolyCom allows crews to build stronger, longer lasting pavements with the materials already in the ground. This reduces the need to procure and transport new quarry materials to site. PolyCom-treated roads require less maintenance, which leads to significant savings in time and resources.
Shane Donovan, Operations Manager of SEALS Group and subcontractor for the Lou Lou Park Road rehabilitation projects said, "[the council].. trialled 4km of PolyCom stabilisation in early 2016 in two locations, one with a red bull dusty loam material and another in black soil, both with great results. They had an unusually wet dry-season and both roads continue to hold up well."
"Council wanted a product that could be re-activated and re-worked without the need for re-application each time maintenance was undertaken."
Congratulations to Isaac Regional Council and all involved with PolyCom Stabilising Aid, in particular Kris Chapman from SEALS Group, who was there from start to finish to oversee this project.
Link to Isaac Regional Council Media Release – Click here
Link to Local Government Focus article – Click here