SEALS Brisbane is a member of the SEALS Group and delivers stabilisation and ground improvement services to the civil & mining industry.
With a strong emphasis on the utilisation of in-situ materials and locally available clays and gravels, SEALS has the experience and the solutions to deliver sustainable alternatives for the construction and maintenance of road infrastructure projects.
SEALS Brisbane works closely with local councils and shires, mine site and gas field operators, and other road makers to transform their road maintenance problems into a more efficient and cost effective solution.
PolyCom Stabilising Aid
PolyCom Stabilising Aid is an Australian-made soil stabiliser, used to strengthen almost any material commonly found in road construction and earthworks projects.
From naturally occurring sub grade, to applications in crushed rock prior to sealing works, PolyCom is used for the construction and maintenance of sealed and unsealed roads, hardstands, mine site haul roads, access roads, shoulders, airstrips and other pavements where material requires improvement.
PolyCom delivers a stronger, more resilient pavement, improving the flexibility and workability of the materials to create a tighter, water resistant surface.
DustChek
DustChek is an Australian made dust control agent that reduces dust on mining and industrial roads where there is an ongoing watering program in place. Also used for dust control on stockpiles, rom pads and open areas, the application of DustChek enables water savings of up to 90% and improved traction, whilst reducing maintenance requirements and delivering substantial savings to haul fleet operations as a result.


Latest News
"Our products change the quality and workability of the soil to increase it's load bearing capacity and resistance to displacement and weathering"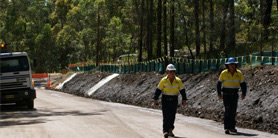 Civil & Construction
Sub-grade improvement and capping
Stabilisation and improvement to gravel and crushed rock
Remediation of dispersive soils
Improvements to in-situ ground normally cut to spoil (Improving clays, silts, sands and variations of these can deliver useful and workable In-situ ground, saving time and money for the project)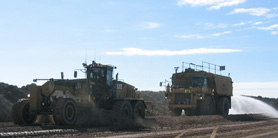 Mining & Gas
Construction and upgrading of haul roads
Improvements to access roads and work areas
Haul fleet cost minimisation
Dust and erosion control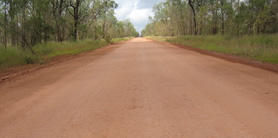 Councils & Shires
Wear course upgrade
Pavement stabilisation
Sub-grade improvement
Sediment control